Paris Fashion Week Project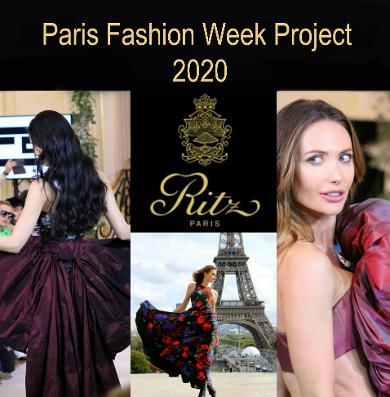 Designers

On behalf of non profit French organization for artist's www.pamfrance.org and MS model agency
we would like to invite you to join us as a sponsor for the upcoming Paris Fashion Week Project. (PFWP) to promote International designers in Paris France in hotel Ritz Paris. With PFWP event it will allow you to promote same time your brand to fashion-minded individuals and press in Paris.
PFWP is helping to all fashion designers to get ready to showcase in capitol of fashion Paris , invest in their fashion brand and show why they are a hot Emerging fashion brand.
Projet Arts & Mode is an experience fashion show organizer and this year we are committed to making Paris Fashion Week Project not just the years' most successful show, but our greatest show ever. To accomplish the task, we need help from supportive sponsors like your company to support designers in Paris Fashion Week Project. In return for you generous financial support of Paris Fashion Week Project we will promote your brand in our marketing campaigns, promotional materials, during the show, and in social media communications. These promotions will benefit you by increasing brand awareness amongst a target local and worldwide audience of thousands.
Our fashion designers can capitalize on their one- day presentation which will afford them the opportunity to present their brand collection to potential clients, retail fashion store, boutique owners, buyers, general managers, potential investors, trade organizations, editors,
blogers, public, media and press. Designers will talk to audience attendees first hand directly after their showcase via our media /press.
We greatly appreciate you taking the time to review our sponsorship proposal. As always, our success depends on partnership with brands like yours and we are proud to have served as a valuable marketing partner. If you have any questions, comments, or concerns, we encourage you to reach out to us directly at projetartsetmode@yahoo.fr
We look forward to partnering with you to make Paris Fashion Week Project in hotel Ritz with International designers a success!
Designers Package

This sponsorship package has limited availability and is available to sponsors, who wish to help designers financially and be featured prominently on all PFWP signage, 6 months promotions on all PFWP social media.
Each designers cost to showcase their collection will be $ 6,000 and it will cover:
Rent salon Vendôme in hotel Ritz Paris, Fitting in PAM studio in Paris
Styling, AV Production, DJ, Lights, Hair and Makeup,
15-20 Models professional, house's photographers and videographer.

Paris Fashion Week Project is a privately owned by projet Arts et Mode. It is not tied in any way to La Fédération de la Haute Couture et de la Mode (FHCM). Paris Fashion Week Project's shows are independently produced in different places and are placed on the Official Calendar of Fashion Week Online.